'Help Us Now': Frustration Sets In, Aid Slow to Come
The Sun Herald's coverage of Hurricane Katrina was awarded a 2006 Pulitzer Prize for public service.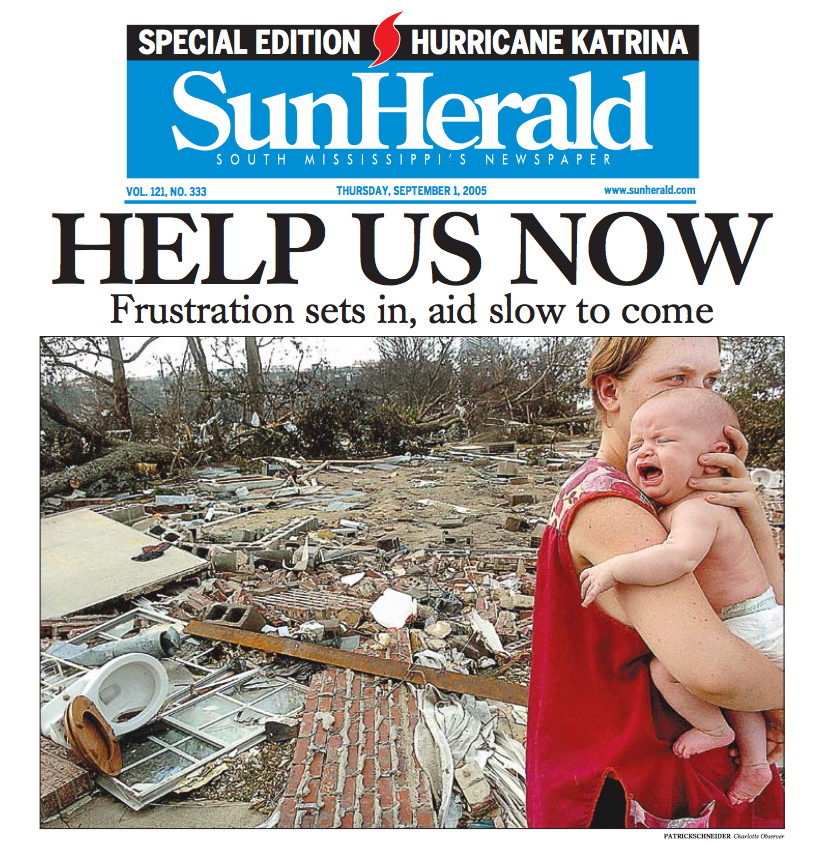 By SCOTT DODD

BILOXI -- Overwhelming need gripped the Mississippi Coast two days after Hurricane Katrina dealt the region a devastating blow.

In the hardest hit areas, where hundreds of people lost their homes, cars and everything they own, parents wandered the street Wednesday begging for water for their babies, and local officials grew frustrated at the slow response.

"We're not getting any help yet," said Biloxi Fire Department Battalion Chief Joe Boney. "We need water. We need ice. I've been told it's coming, but we've got people in shelters who haven't had a drink since the storm."
Disaster officials said they were mobilizing the largest aid effort in the nation's history to help the communities hit by Katrina. But with so much destruction along the Gulf Coast, people in South Mississippi feared they were being overshadowed by New Orleans and other areas.

Relief agencies are working to get as much help to Southern Mississippi as possible, The Salvation Army's division commander for the Gulf states said. But the need is beyond anything they've experienced.
"I've never seen devastation so bad," Major Dalton Cunningham said. "I've been through Andrew, Hugo, Charley, Ivan -- this is by far the worst."
Residents who've lost everything expressed their frustration. Steve Loper of Pascagoula said he hasn't seen anyone from the city or emergency agencies since the storm.

"We're lost," Loper said. "We have no direction, no leadership. People are in bad trouble."

The American Red Cross has 250 trucks loaded with water and supplies coming from all over the country to Mississippi and Alabama, and 1,700 people to hand them out, said Oscar Barnes, the agency's director for the Gulf Coast.
Ninety-five mobile Salvation Army cantinas are also headed to the disaster zone. They're capable of serving 400,000 meals a day, but even that may not be enough.

Thousands of people lined up for water or food wherever relief agencies or the National Guard stopped, including several thousand at the Crossroads Shopping Center in Gulfport.
Four Federal Emergency Management Agency trucks distributed 44,000 pounds of water and 2,200 prepared meals at the mall. Guardsmen handed out a case of water and box of meals to each family -- more to those with special needs.
Kiwasha Shears, who is six months pregnant and has three kids at home, waited in line for two hours. She got three cases of water, each with 24 bottles.

Some people jostled to get a better place in line, as tempers flared and children cried in the stifling heat. Aid workers promised more help is coming. "This is a drop in the bucket," said Mike Cuatt, a driver for FEMA.
A mobile cantina from Oklahoma and Arkansas parked on top of the remains of the Salvation Army's crushed building in downtown Biloxi. Mud-caked residents carried away armfuls of bananas and cornflakes -- the first meal some had eaten in two days.

The Salvation Army's office manager in Gulfport lost her own home and has been sleeping in her office since the storm. "Help has to come from the outside," Sally Lohrbach said, "because there's nothing here to help people with."

Throughout the hard-hit neighborhoods, people wandered the streets, looking for anyone with a spare bottle of water or bite to eat. Bob Stump approached two firefighters with Bonnie, a blonde, curly-haired 2-year-old in tow. "You got any water for us?" he asked.

All they had was a bottle of Gatorade in the fire truck. They gave it to him.
His family of six lives in Back Bay in east Biloxi. They rode out the storm in a center bedroom. The winds picked up their home and shoved it into the street.
Only the room they were huddled in survived. Their neighborhood is thigh-deep in mud, and all their clothes are caked in it. The family's youngest is just 9 weeks old.

"Her mother's breast-feeding, but we've got to find something for her," Stump said. "They ain't brought one bit of food into this town."

He finally found his way to the Salvation Army's cantina and carried away all the supplies he could.

It will probably last them a day.
Scott Dodd is a reporter for The Charlotte Observer. Tracy Dash and Melissa Scallan with The Sun Herald and Dan Duffey with The Charlotte Observer contributed to this report.
PUBLISHED BY: THE SUN HERALD