← Back to portfolio
Isabel Costliest Hurricane in Outer Banks History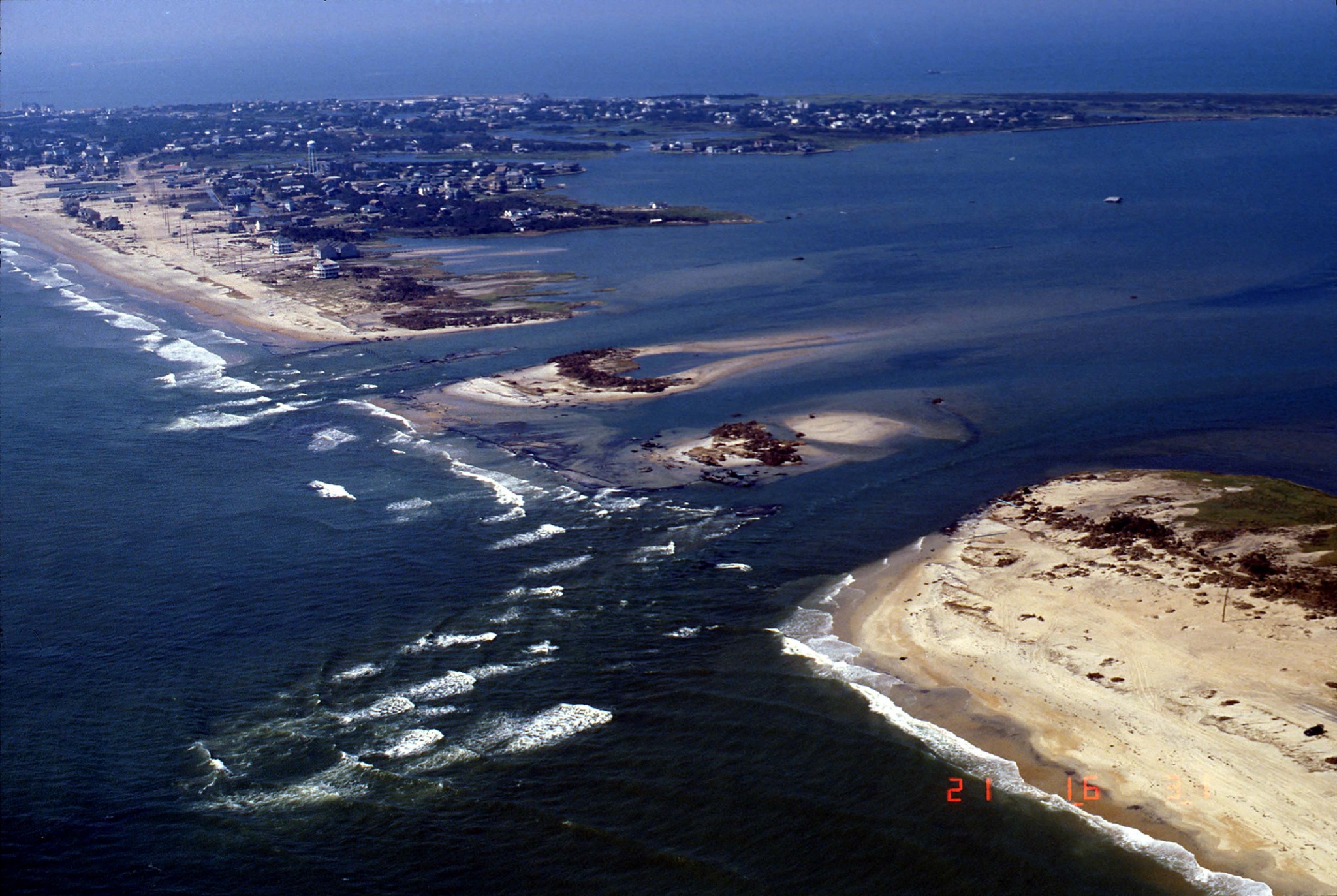 Image: USGS
By SCOTT DODD, ANNA GRIFFIN and MARK WASHBURN
Homeland Security chief Tom Ridge helicoptered down the Outer Banks Saturday, gazing upon a ribbon of ruin from Kill Devil Hills to Cape Hatteras. 
Ridge, who oversees federal disaster relief, urged patience in the affected areas and pledged that help was on the way.

"We have to get people back on their feet," said Ridge, whose own home in Maryland was one of those left without power by Hurricane Isabel.

As damage was tallied Saturday along the fragile barrier islands, it became clear that Isabel would be the costliest hurricane in Outer Banks history, with more than $300 million in destruction estimated on Hatteras Island alone. 
Insurers say North Carolina's damage may top $1 billion. Fran, by comparison, caused $3.2 billion of damage in North Carolina in 1996.

Authorities estimated that 75 percent of the structures in Chowan County sustained some damage. As much as 85 percent of Perquimans County was damaged, and like many counties, there was no power there at all.

Outsiders who reached the quaint settlement of Hatteras by boat Saturday found the northern end of the village -- the heart of its tourist district -- all but obliterated. The oldest part of town, dating to the mid-1800s, was largely intact.

You could smell the village before you could see it. Fetid debris included rotting fish, soaked carpet and septic tanks popped up from the saturated ground.

It seemed at times to be an island turned topsy-turvy. Sea things had come ashore; shore things had gone to sea. A house sat serenely in Pamlico Sound, water to its roofline. In town, a boat nuzzled a cottage.

On one street were houses without roofs. On another, roofs without houses.

The Sea Gull Motel used to have three buildings. Isabel demolished one and plopped the second over the swimming pool. The last building's ground floor was gnawed away and the second story discarded across the road.

And among Hatteras' lodging spots, the Sea Gull fared the best.

National Guard troops patrolled the town against looters, though mostly it seemed people were bringing things in. Power generators, a Salvation Army kitchen and other necessities poured in by boat. Vans were available for borrowing for people who had lost their cars.

An urban search and rescue unit made up of Charlotte firefighters went door-to-door, checking to make sure no one was trapped. They would occasionally shore up trouble spots with lumber, which was everywhere for the picking.

Twenty Charlotte-Mecklenburg police officers will head to Elizabeth City this morning, department spokesman Keith Bridges said. The 18 officers and two sergeants will help the Elizabeth City police. Bridges said it's not clear what they will be doing or how long they will stay.

Three new inlets were cut by the storm between Hatteras and Buxton, home of the island's famous lighthouse.

One was a 300-yard-wide gap in which whitecaps danced. Surfers dove into it, seeking its bottom but it was out of their reach.

It was the same spot where an unnamed hurricane, following the same path as Isabel, carved an inlet in 1933, which was later filled up with sand.

Survivors say the Atlantic piled up against the 20-foot dunes east of Hatteras, then suddenly punched through. It unleashed a wave that swept away buildings, cars and the town's sign: "Welcome to Hatteras, Marlin fishing capital of the world."

The dunes had stood since the Franklin Roosevelt administration.

State Sen. Marc Basnight, D-Dare, stood along N.C. 12 Saturday in Hatteras, greeting motorists. "You fix it back," he said. "You put it back because people love it."

Access to the upper reaches of the Outer Banks was restored Saturday, but authorities urged the curiosity seekers to stay away. Some of the worst injuries occur in the aftermath of a storm as sightseers come in to see the damage, said Capt. Robert Carver of the N.C. National Guard.

In the resort towns of the upper Banks, Isabel seemed to have a sense of humor, if a wicked one.

Room 323 of the Traveler's Inn in Nags Head was missing its roof, but the towels were still on their racks, a mirror hung neatly on the wall and the beds were still neatly made. The phone was working.

PUBLISHED BY: THE CHARLOTTE OBSERVER