← Back to portfolio
Last Seconds: A Call, a Roll, Then Disaster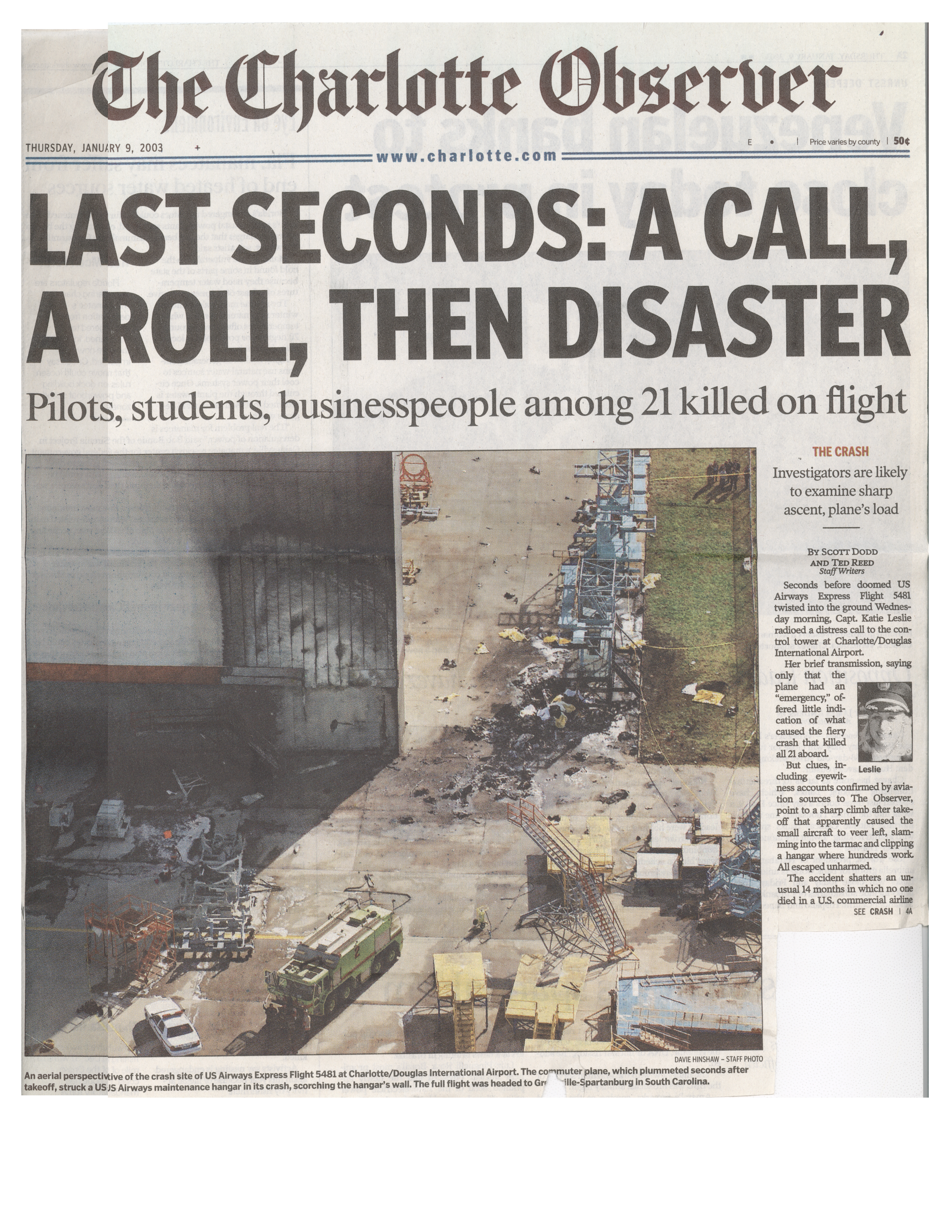 By SCOTT DODD and TED REED, STAFF WRITERS
Seconds before doomed US Airways Express Flight 5481 twisted into the ground Wednesday morning, Capt. Katie Leslie radioed a distress call to the control tower at Charlotte/Douglas International Airport.
Her brief transmission, saying only that the plane had an "emergency," offered little indication of what caused the fiery crash that killed all 21 aboard.

But clues, including eyewitness accounts confirmed by aviation sources to The Observer, point to a sharp climb after takeoff that apparently caused the small aircraft to veer left, slamming into the tarmac and clipping a hangar where hundreds work. All escaped unharmed.

The accident shatters an unusual 14 months in which no one died in a U.S. commercial airline disaster.

Investigators will want to look at engine failure or a problem with the flight control system as possible causes of the steep ascent, said Greg Feith, the lead National Transportation Safety Board investigator of a 1994 crash in Charlotte -- the airport's last fatal commercial accident.

Other factors, including a slow takeoff speed, unusual winds or an imbalanced load of cargo and passengers also could have caused the climb.

Investigators also will concentrate closely on the plane's flight data and cockpit voice recorders -- which they recovered Wednesday afternoon. Both were sent to Washington and could yield more clues as early as today.

"At this point, nothing is ruled out," said John Goglia, a National Transportation Safety Board member on the scene. "Everything is on the table."

Performance and experience of the pilots, both in their 20s, also will be scrutinized. "Most accidents are a result of a chain of events, and I doubt this one will be any different," said aviation safety expert Eric Doten with Embry-Riddle Aeronautical University in Daytona Beach, Fla.

But weather, blamed for the 1994 crash that Feith investigated, is unlikely to be the cause. Skies were clear at takeoff, with winds of 8 mph, according to the National Weather Service. Wind speeds would need to be three times that or more to affect a takeoff, experts say.
The plane, a Beechcraft 1900D built in 1996 and operated by AirMidwest, crashed less than 48 hours after its last maintenance work Monday night in Huntington, W.Va., an airline source told The Observer. 
Federal aviation records show a history of routine service difficulties and five in-flight incidents with the plane. They include a loss of oil pressure in November 2000 that caused the crew to shut down an engine, a leaking fuel pump replaced last fall and landing gear that wouldn't retract in May -- none of which were unusual for a plane of its age and type.
After more than a year without a major airline disaster in the United States, the commuter crash thrust Charlotte into the national spotlight Wednesday. It's not expected to have a significant financial impact on USAirways, the city's dominant carrier, which is working to emerge from bankruptcy court protection. 
But it could further damage the struggling carrier's image. Damage and compensation to victims could amount to $85 million, the Insurance Institute of New York estimated.
The dead included Leslie -- the 25-year-old captain -- and First Officer Jonathan Gibbs, 26, both of Charlotte, as well as two Clemson University students from India and the manager of a well-known hardware store in the Bahamas, traveling with his brother and 13-year-old daughter.

John Gezzer's brother, Gary, 44, of Fort Lauderdale, Fla., was on the plane. "He was like my best friend," said Gezzer, whose brother had a wife and three children. "He enjoyed living. He was a big family man. His family meant a lot to him."

Charlotte has not had a deadly commercial airliner accident since July 2, 1994, when a DC-9 crashed during a deadly thunderstorm. Fifty-seven people were on board. Thirty-seven were killed.

Wednesday's crash was Charlotte's third-deadliest ever. The worst killed 72 people in 1974.

Deadly plunge
The twin-engine prop that crashed Wednesday spent the night at Lynchburg Regional Airport in Virginia, taking off at 6:20 a.m. for a flight to Charlotte.

A new set of passengers, and a new crew, boarded for Greenville-Spartanburg, a routine 45-minute flight that leaves the Charlotte terminal weekdays at 8:30 a.m.

But this morning, during takeoff, something went wrong.

Eyewitnesses' accounts varied, but largely described the sight of a struggling plane, low to the ground, twisting almost belly-up.

"All of a sudden it took a turn and blew over," said Geoffrey Puccia, a Belmont Abbey College student who had stopped at a traffic light near the airport. "I pretty much knew there wasn't going to be anybody left."
Bart Hargis, a vanpool coordinator working near the hangar where US Airways overhauls jetliners, heard the strain of engines and looked up, seeing the plane begin to roll.

"The plane was tilted in the air, one wing up and one wing down," Hargis said. "Then the roar stopped and I heard this 'Pow!'

"It looked like it just dropped like a rock."

The plane's wing hit the massive hangar at 8:49 a.m., spreading a torrent of burning aviation fuel like lava. A dark plume hung over the office spires of downtown Charlotte as the wreckage burned, fed by fuel from the plane's tanks.

One witness said the smoke was so thick "you could taste it in your mouth."
About 400 workers scrambled to safety as firefighters spread foam and began a futile search for the injured.
"Even a layperson could immediately tell there were no survivors," said Charlotte Fire Department Battalion Chief Jimmy Thompson.
Runways were closed for a short time, delaying flights at US Airways' largest hub. At least nine were canceled Wednesday morning, including another to Greenville-Spartanburg.

In Greenville, families and friends of those believed to be on the flight were gathered by airline officials and kept from watching the news on TV.
The flight was operated by Air Midwest, a contractor for US Airways, that is owned by Phoenix-based Mesa Air Group, one of the country's leading regional carriers. Mesa flies about 50 planes of the same type.

"I can only express our greatest sympathy, my personal sympathy, to all those involved," said Jonathan Ornstein, Mesa's chairman and chief executive.

Piecing clues together 
Investigations of this type can take months, but preliminary findings could yield further clues to the cause in weeks or even a few days.

The most valuable indications could come from the flight data recorder, which measures aircraft movements and actions by the pilots, and voice recorder that tapes the last 30 minutes of cockpit conversations and sounds.

The key to the investigation may be determining why the plane ascended so sharply, likely causing a stall when the airplane lost lift.

Investigators have records on the plane's weight and distribution of passengers and cargo, Goglia said late Wednesday. Those factors are particularly important on a small plane.

The debris and dead were largely found in one place, at the end of the maintenance hangar, with many of the bodies still within the plane's fuselage. But investigators said the debris was "quite dense and fine," which could slow the inquiry.

Firefighters began removing bodies Wednesday evening as the NTSB finished its preliminary look.

The medical examiner's office will use dental records, jewelry and other items to identify the victims and release bodies to family members.

Chris Swecker, special agent-in-charge of the FBI's Charlotte office, said there were no indications terrorism was involved.
The Beechcraft 1900D has a cockpit door, said Chris Leak, a Mesa representative on the scene, but he didn't know if this one had been reinforced, as some on the carrier's aircraft have been since the Sept. 11 terrorist attacks.

NTSB records show eight previous fatal accidents involving the Beechcraft 1900 series since 1987. The most recent was Dec. 9 in Eagleton, Ark. Three people died; that investigation is ongoing. 
Over the next few days, investigators will examine the engines part by part and interview more than 100 airport employees and visitors who saw the crash.

"Wreckages, you know, they tell a story," Goglia said. "That's how we make our living. We put the puzzle back together."

The pilots' records also will face scrutiny, a routine part of any crash inquiry.

Pilots must have 1,500 hours of experience to fly a commercial plane. The average new hire at regional airlines has 2,000 hours, according the Air Line Pilots Association, with major airlines hiring pilots with an average of 4,000 hours in the air.

It was unclear how many total hours Leslie and Gibbs had flown. But in the type of plane that crashed Wednesday, according to the NTSB, Leslie had 1,800 hours. Gibbs about 700 hours.
Mesa Air Group Vice President Brian Gillman wouldn't disclose the airline's standards or minimum requirements for new pilots but said the company follows the law. He also wouldn't say which of them was flying the plane.

"You will often find that type of experience in commuter planes," Feith said. "They are the stepping stones to moving into the majors."

--STAFF WRITERS ADAM BELL, ERICA BESHEARS, CRISTINA BREEN, ADAM CATALDO, KAREN CIMINO, MICHELLE CROUCH, ERIC FRAZIER, KEN GARFIELD, BRUCE HENDERSON, CHARLES LUNAN, ROBERT F. MOORE, LISA MUNN, DAVID PERLMUTT, RICK ROTHACKER, JENNIFER TALHELM, MARK WASHBURN AND GARY WRIGHT CONTRIBUTED TO THIS REPORT.