← Back to portfolio
Lighten Up, Bears Fans — If You Can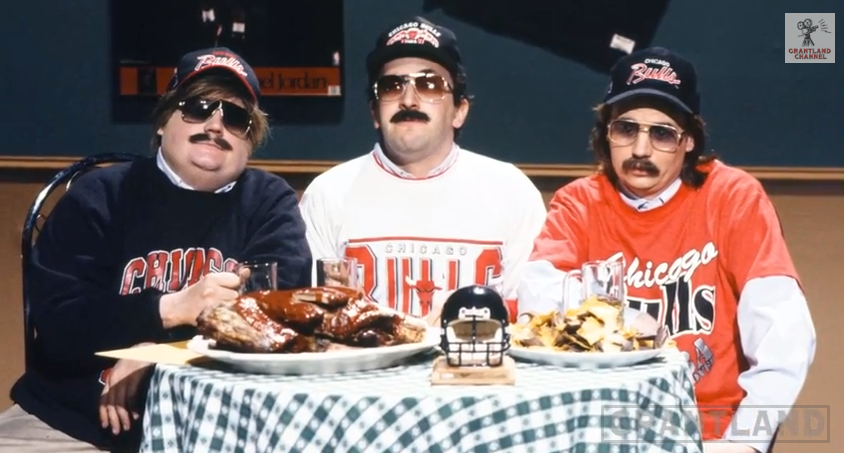 By SCOTT DODD, STAFF WRITER
So the Chicago Sun-Times says Bears fans are smarter, richer and more loyal than their Panthers counterparts.
Oh yeah, Chicago Sun-Times, well you're fat.
But that's Men's Fitness magazine talking, not us. The mag just named Chicago "Fattest City in America."
Better take down those "Windy City" signs and replace them with "Winded City."
Actually, we polite Charlotteans have no desire to get into a war of words (unlike your defensive end Adewale Ogunleye, who said the Panthers "don't deserve" the credit they get). We'd rather sit you down for some sweet tea and tangy 'cue (which is why we have our own waistline problems, so we sympathize).
But you had to go the filthy Philly route, taking your shots like the Philadelphia Daily News did two years ago before the NFC Championship game. You see how well that worked out for them.
Here's some of what the Sun-Times said Thursday:
In one article, the paper wrote that the Panthers organization is "known as much for its controversy as its football. Most word-association tests that start with 'Carolina Panthers' would end with 'cheerleaders.' "
We knew the TopCats' little brush with the law would come up eventually. (At least we have cheerleaders. The Bears disbanded their squad 20 years ago - and haven't seen a Super Bowl since.) And of course, they rehash Rae Carruth, Fred Lane and all the other Panthers' crimes and tragedies.
But from a city best known for Al Capone? You ain't exactly untouchable on that front.
Another article takes the demographic demolition route:
"Bears fans are smarter, richer and, well, maybe drunker than Carolina Panthers fans. Just like you'd figure? On top of that, Panther fans are more likely to prefer slurping specialty coffee drinks and to have pet pussycats. A bigger percentage of Bears fans finished college and earn more than $75,000 a year than their Carolina counterparts."
They pinned all that on a Scarborough Research analysis of NFL fans, throwing in that when Bears fans drink beer, they "go for the good stuff" -- tasty imports and microbrews -- while Panthers fans "guzzle light beer."
We're not thin-skinned enough to take offense at any of that. It's just data, after all, and some might even be right on the money (especially the part about drunk Chicagoans), although our statistics show more wealthy folks here in Charlotte.
No, where the Chicago scribes really get in trouble is when they question the loyalty of Panthers fans, saying they haven't been around long enough to match the Bears fans' fervor.
Sirs, this is the South. We don't take loyalty lightly.
The Sun-Times quoted Chicago sports marketing guru Marc Ganis, who said: "At most, Panther fans have been around for 11 years. I'm not saying one is better than the other, but the depth of emotion for their team is greater for Chicago fans."
We know some fervent Panthers fans who would beg to differ, but we'll let the Panthers players stick up for them.
"You're in the South," safety Marlon McCree said. "Football is king down here. If you had the team two years, it wouldn't matter. Our fans support us, they're loud, they make the other team take timeouts. They're the best in the NFL."
McCree might rhyme with hyperbole, but fans will appreciate the sentiment. Veteran Panthers Mike Minter and Mike Rucker were a little less extreme, acknowledging that fans who've followed Da Bears all their lives might have a closer connection. But Panthers' fans are getting better all the time, they say.
"You start to see our fans traveling more. You start to see them in different stadiums," Rucker said. "That grows by winning."
And Minter had probably the best comeback: "At the end of the day, it doesn't matter. The fans aren't out there playing."
Good thing for Chicago fans. Because they're really fat. 
*
Carolina Strikes Back
Here's what some Carolina fans wrote to us or posted on the Observer's Panther Tracks blog in response to the Chicago Sun-Times articles Thursday:
"Before we got the team, I watched the Super Bowl for the commercials. But I guess being a Bears fan, so did you."
"From my experience, a Panther fan since '95 and living in Chicago since '79, the Carolina fans seem to support the team throughout (i.e. 2001 season), whereas the Chicago fans turn on and off ('85 lovers '87 haters). One year they love everyone, then they want everyone from the owner to the towel boys/girls fired."
"The people of the Carolinas remember what it was like to not have a team of their own. We didn't become fans by default or because it was handed down from family. This is OUR team, not our grandfather's team!"
"Kinda funny how the entire country hasn't heard a peep out of Bears fans in 10-15 years but now, all of a sudden, they have a winning season and they are 'the greatest fans on the planet.' Ha ha, keep wishing, Chicago."
"The Bears don't have cheerleaders 'cause it's too stinkin' cold!"
"Apparently we're not stupid enough to burn our own city down." We're pretty sure a cow got blamed for that.
-
PUBLISHED BY: THE CHARLOTTE OBSERVER