← Back to portfolio
Nerves of Steel in a City of Cranes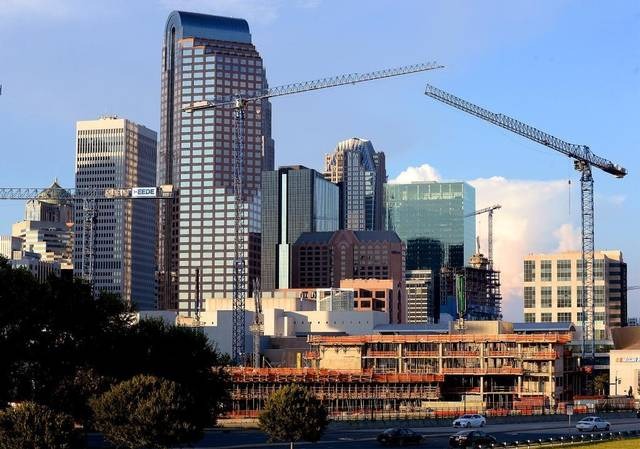 Image: Jeff Siner/The Charlotte Observer
By SCOTT DODD, STAFF WRITER
This is the way that Clark Anders looks at the world: Staring down between scuffed work boots, through an open window at his feet.

The white clouds above feel closer than the gray streets of uptown Charlotte far below. There's no sound but the wind and the constant chatter of co-workers on two-way radios. 
That's Crowders Mountain squatting in the distance, and the steam to the south is the nuclear plant exhaling over Lake Wylie.

Stretching his legs means strolling out a narrow catwalk high above Fifth Street. There are no nets, no safety harnesses, nothing but a thin metal grate between him and a 734-foot free fall.

This is what life is like atop Charlotte's tallest construction crane, a spindly looking contraption that has helped hoist 10,000 tons of steel for the nearly finished Hearst Tower.

Since the 1970s, cranes have reshaped Charlotte like a giant erector set. By fall, a record number will loom over the skyline, an ever-present symbol of prosperity and change.

Yet in many ways, tower cranes are less regulated than elevators. Operators don't need a license, and construction companies can put up cranes without notifying the state.

The men who run them -- and it's pretty much an all-male profession -- work long hours, earn up to $100,000 a year, and easily could kill half a dozen co-workers with a simple mistake.

"There's something about operators," says Dennis Kenna, who has been in the business for 30 years. "You just imagine sitting in that box 12 hours a day, up in the elements, with three radios squawking in your ear.

"They're a different breed."

Crowning Hearst Tower

Not many operators in Charlotte can rival Anders for experience. The Interstate Tower, Transamerica Square, First Citizens Bank building, the new jail -- he's worked them all.

On Friday, he lifted the last piece of steel to crown the 46-story Hearst Tower at Sixth and Tryon streets, now the city's second-tallest structure.

No one in Charlotte but the executives in the Bank of America tower next door can claim a higher workplace.

Each morning Anders rides a construction elevator to the 44th floor, which has no walls yet. Already more than 500 feet in the air, he walks across a narrow metal brace and into his crane, rising up the side of the building.

The next 120 feet are straight up a ladder, 114 rungs. At the top is a tiny platform. He spends most of his day perched in a phone-booth sized cab, dangling off the side of the tower.

Lunch is a couple of sandwiches he carries up in a plastic bag. Bathroom breaks are in an empty soda bottle.

He doesn't leave his rig for anything -- not even the fiercest storms.

Anders has seen lightning hit his crane at least 100 times. The electricity travels down the steel structure and straight into the ground, bypassing his cab.

But whenever a bolt hits, he thinks he feels a tingle.

His scariest moment came while working on the 60-story BofA tower with his long-time partner, Neil Bennett.

The pair spotted a menacing line of thunderclouds rolling in off Lake Norman. Bennett, on the second crane, wanted to climb down. Anders said no. So both stayed.

As the wind bent their rigs like giant reeds on a pond, Anders watched lightning strike like blue stingers all around them. Bennett radioed through the storm. "I'm gonna kill you," he said.

A sky full of cranes

This is a boom time for tower cranes in Charlotte. Saturday, the city's 12th -- the most since the '80s -- rose on East Boulevard in Dilworth, at the future site of the Latta Pavilion condos. A second will join it soon.

No. 14, the record-breaker, goes up in a couple of months at another condo project on North Church Street.

"It's the best I've ever seen the business," says Kenna, who's president of Heede Southeast in Pineville. His company provides cranes throughout the Southeast. Every one in Charlotte now is one of Heede's blue Lindens.

They're expensive -- often more than $1 million a job -- but they pay for themselves by cutting down on construction time.

The towers are narrow. A climber could stretch out his arms and nearly touch both sides. They're designed to be flexible, which also makes them strong. In the best of conditions, a crane can lift almost 40,000 pounds.

Free-standing rigs can be up to 265 feet tall. If they need to go higher, they're anchored to a building with metal braces. "The sky's the limit, then," Kenna says.

Anders operated the tallest crane ever used in Charlotte -- 890 feet at the BofA tower. His current crane is No. 2.

Danger at his fingertips

He controls a 700-foot-long cable with the flick of a joystick on his armrest, moving it up and down, out and back along the boom. With another joystick, he swings the crane left to right.

At this moment, he's hoisting a 5-ton steel girder, balanced by a cable coiled around its middle.

Workers on the ground and perched on the roof bark instructions over his radio. "Left! Right! Come hard! Easy now!"

Anders makes it all look so smooth. But flick the joystick a little too hard or long, and the girder crunches into his co-workers like an enormous aluminum bat.

"You've always got somebody's life in your hands with this steel," he says. "It's so easy to hurt somebody. You've gotta think about what that hook's doing all the time."

Despite the dangers, crane operators don't have to be certified. Some schools offer special training, but many operators learned on the job, starting with the smaller mobile cranes and working their way up.

"It takes experience to do it," Anders says. "It's something you just don't learn overnight."

Kenna has a list of about 15 qualified operators who do jobs in Charlotte and the Southeast. But with so many cranes up right now, there aren't enough skilled veterans to go around.

State inspectors can fine a company for using an unqualified operator, but site visits are rare -- maybe three times on a job the size of the Hearst.

Still, towers have a better safety record than other types of cranes, said Kevin Beauregard, N.C. assistant deputy commissioner of occupational safety and health. Because they're cemented in the ground, they're less likely to tip.

He's not aware of any tower crane mishaps in North Carolina.

Nationwide, though, accidents do happen. Two years ago, a 480-foot crane working on the new Milwaukee Brewers stadium collapsed in a 30 mph wind and killed three ironworkers. And a 1989 collapse in downtown San Francisco killed five people and injured 21.

Long hours, good money

To Anders, the crane is just a job site. And he loves his work.

The money's good. At up to $25 an hour, tower crane operators are among the top-paid construction workers in Charlotte. With overtime, they can inch over into six figures.

Anders, who lives in Virginia, regularly puts in 12-hour days, sometimes six or even seven days a week.

Most operators start young, when they're out to prove themselves. They get nicknames like Bird, Big Jim and Chickenhawk.

Anders, though, is just plain Clark. Since Bennett retired, he's the dean of Charlotte operators.

Those with experience know they have job security, especially in the booming Southeast.

Right now, the industry is buzzing about Duke Energy's possible plans for a 40-story tower on South Tryon Street.

Glancing up from his cable, Anders looks over at the rumored site. From his vantage point, it's no bigger than the square of a checkerboard.

"That's my next job," he says. "Right there."

-
PUBLISHED BY: THE CHARLOTTE OBSERVER