← Back to portfolio
The Burial That Fate Denied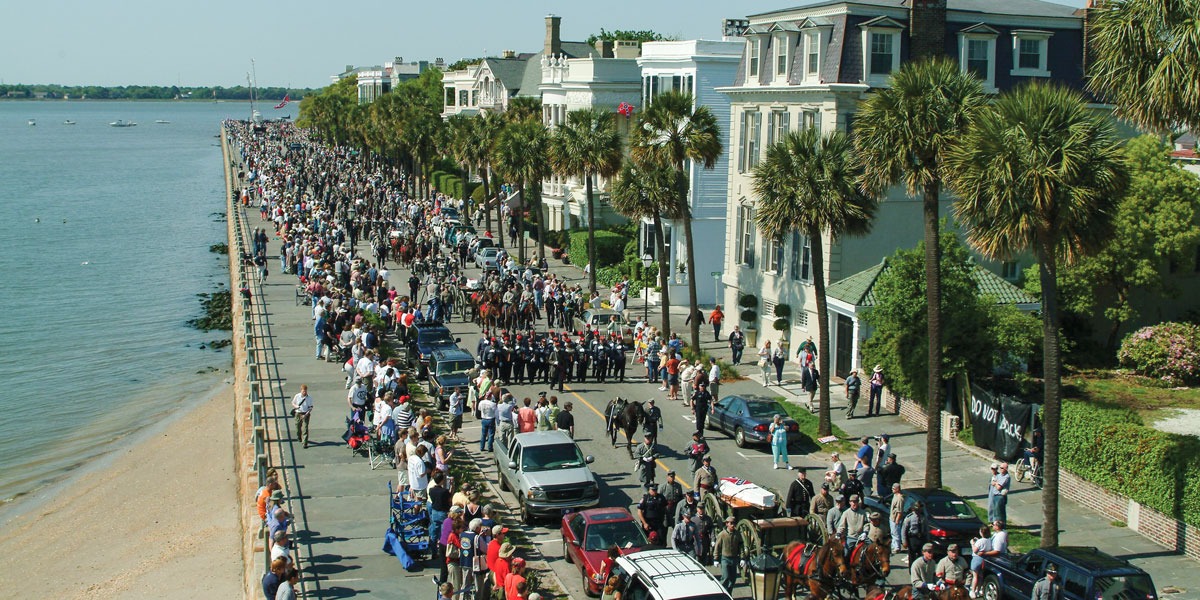 Image: Friends of the Hunley
By SCOTT DODD and DAN HUNTLEY, STAFF WRITERS
CHARLESTON, S.C. -- Confederate cannons thundered over this city's historic harbor Saturday as more than 30,000 people packed the streets for the Super Bowl of Civil War nostalgia.
The clomping of horses' hooves covered nearly five miles, past antebellum row houses to a moss-draped cemetery. The procession honored eight pioneering submariners who perished -- obscure and almost forgotten -- in a 40-foot ironclad tube at the briny bottom of Charleston Harbor.  It was called the H.L. Hunley.

One hundred forty years after the sinking, the men were celebrated and buried in a fashion usually reserved for fallen heads of state. Thousands of mourners followed horse-drawn caissons topped with flowered wreaths.
The eight Confederate crewmen -- some whose full names aren't even known -- were laid to rest alongside 13 others who perished in two of the sub's earlier attempts to disrupt a Union blockade.
"It's a funeral, but I can't really feel sad," said Richard Barker of Jacksonville, Fla., the great-great-grandson of Hunley crewman James Wicks. "I'm just so overwhelmed at the response the boat and the crew continue to get."
Sandra Rogers of Orangeburg, S.C., needed just two words to explain why she and her husband, Al, came to Charleston for the procession: "We're Southerners." To them, the Hunley represents a victory against Northern aggression.
The men of the Hunley, Rogers said, "died to make us who we are today."
The primitive sub's crewmen were the test pilots of their era, sweating to turn handcranks that powered their boat's propeller. Robert Neyland, head of the U.S. Navy's underwater archaeology program, has said the Hunley was to submarine warfare what the Wright brothers were to aviation.
Karl Evans of Apex agrees. A World War II submarine veteran who attended Saturday's ceremony in a wheelchair, Evans, 86, said he never even heard of the Hunley when qualifying for sub duty aboard the USS Porpoise. The Navy at the time believed submarine warfare reached back only to 1900.
"I feel real sympathy for them and all respect for what they did," Evans said. "I picture them in there, turning that crank, and think, `Good God, none of us could do that.' "

Cinematic setting
About 10,000 Civil War re-enactors -- some from as far away as Brazil, Australia and Austria, almost all in Confederate garb -- marched in the procession.
Most of the crowd had brought lawn chairs and picnic blankets; it seemed more carnival than funeral. The United Daughters of the Confederacy, all dressed in black, provided lemonade and butter cookies for the troops.
The funeral procession arrived with the horse-drawn caissons at Magnolia Cemetery around noon, followed by a half-mile-long trail of re-enactors.
The Hunley burial site resembles a set out of "Gone With the Wind," with century-old brick-and-oyster-shell crypts amid serpentine limbs of live oaks. Beards of Spanish moss sway over the graves of five Confederate generals and more than 1,700 rebel soldiers.
"I came here this morning really thinking about the Hunley crewmen, but to tell you the truth, under this sun, it became like a battle march," said re-enactor Marty Evans, 44, of Pelzer, S.C., who collapsed in the shade of the cemetery after arriving. Several re-enactors passed out due to heat exhaustion and were treated by emergency personnel.
The crewmen's pine caskets were laid to rest side by side in a single grave beneath a large palmetto tree as bagpipes played. The dry fronds of the palmetto rattled in the wind as last rites were spoken.
State Sen. Glenn McConnell, a Charleston Republican and the chairman of the Hunley Commission, wore a formal Confederate jacket with gold-fringed epaulets on the shoulders beside the flag-draped caskets. He said he was proud to have helped "give the Hunley crew the burial that fate had denied them. To the crew of the Hunley: Welcome home. Your journey is now complete."
Speakers from the Hunley Commission and Sons of Confederate Veterans praised the lost crew as "brave Confederate soldiers" who displayed "courage beyond most heroes."

`Our history'
Words like "heroes" and "honor" were used all day Saturday. The Lowcountry's best-known author, Pat Conroy, said Southerners' seemingly unquenchable thirst for the Civil War has manifested itself in a "mad celebration of all things Hunley."
"Friends outside the South are truly mystified about this cult that has grown up around the Hunley and the funeral of the crewmen," Conroy said. "When they ask me to explain this fascination with the Confederate submarine, I tell them, `It's Kwanzaa for white folks.' And I say that out of no disrespect for blacks or whites. It's just what it is."
Joseph McGill stepped off a bus at the Charleston Battery Saturday morning wearing the blue uniform of the 54th Massachusetts. That was the black Union regiment that led a battle charge near Charleston and was later portrayed by Morgan Freeman and Denzel Washington in the movie "Glory."
Feeling somewhat out of place at first, McGill and a few other 54th re-enactors joined about 30 other men in blue from across the United States.
"I'm two minorities here," said McGill, who works for the National Trust for Historic Preservation. He knows some friends and family members are skeptical about what he does in his spare time -- and especially about his participation in a funeral for Confederate soldiers.
"But the important word for me is `soldiers,' and that's what I honor," McGill said. He's not worried about their motivation or why they fought for the South. "I'm into the fact that these men are soldiers, and they deserve to be honored as part of history. Our history. U.S. history."

The meaning of patriotism
A few decades ago, a Civil War funeral of this size and prominence would have been a must-attend event for many Southern politicians. Hunley promoters invited the governors of 14 Southern states to this weekend's ceremonies, but all of them declined.
Most, including S.C. Gov. Mark Sanford, who has Air Force Reserve duty this weekend, cited scheduling conflicts. But political experts said they might be wary of public perception of an event so steeped in Confederate sentiment.
"They've got real life to deal with," said John Egerton, a Nashville author who has written about civil rights and Southern culture. "They've got budget problems. They've got people losing jobs. Why on earth would they want to stop to do something like that?"
In Egerton's eyes, the Hunley obsession is a sign that parts of the South still can't let go of the past. He finds it inappropriate to focus so much attention on a long-ago conflict when American soldiers are dying in a contemporary war in Iraq.
"It seems to me to be borderline unpatriotic. It really does," Egerton said. "If I'm going to be waving a flag nowadays, it ought to be an American flag."
But Maggie Burke, dressed Saturday in a black Civil War-era dress and bonnet, disagreed. She's the civilian coordinator for one of the nation's largest re-enactment groups, the Army of Northern Virginia. Burke and her fellow re-enactors were a big draw for photographs on Charleston's brick-paved streets. They looked as if they'd stepped right out of a 150-year-old portrait.
Burke said her group has young re-enactors who are currently serving in Iraq. She believes honoring military men from any conflict honors others who have served or are fighting now.
"It's an honorable thing," Burke said, "and we're in a country right now that needs that."
Burke and her fellow female re-enactors aren't caught up in the fractious Southern sentiments that still tinged some of Saturday's events. They believe the war and the motivations of those who fought it were complex, and they try to represent both sides.
They've even formed the Mason-Dixon Alliance with Union re-enactors. She was joined in a toast Saturday to the Hunley sailors by Stacy Hampton from Philadelphia, the civilian coordinator for the U.S. Volunteers.
"I'm on the side that won," Hampton said, holding a finger to her lips.

Controversy on hold
Media-savvy Hunley promoters and preservationists play up the "CSI" aspect of the submariners as much as possible.
They released what they've learned about the identities of the crew and reconstructions of their faces two-a-day throughout last week to give local TV and newspapers an ongoing story to follow.
Charles Tolliver of Columbia, visiting Charleston with his wife and four children Saturday, said that even though he's black, he doesn't see anything harmful in the Confederate displays -- as long as they're in the context of the past.
"History is history," Tolliver said. "We're native South Carolinians, and it's important for the kids to get to know their history."
Still, all the talk of burying the "brave heroes of the Confederacy" was a bit much for some black residents in a city that once was the bustling hub of the South's slave trade.
At the College of Charleston's Avery Research Center for African American History and Culture, the mostly black staff said they did their best to ignore the events. They're more concerned about keeping the city's buses running after the S.C. Supreme Court threw out the half-cent sales tax that funded Charleston's transit system, forcing it to cut more than half its routes.
But the various views of the Hunley procession and its meaning showed once again that deep divisions remain in the South.
In largely New South cities, such as Charlotte, Raleigh and Atlanta -- full of newcomers from the North for whom Civil War history really is just history -- it's easy to find people who've barely heard of the Hunley or anything about this weekend's funeral.
"The South just isn't consumed by the Civil War the way it once was," said Ferrel Guillory, director of UNC Chapel Hill's program in Southern politics, media and public life. In Chapel Hill he hadn't heard much of anything about the sub until a reporter called last week.
"Probably a lot more people in the South watched `American Idol' this week than are interested in the Hunley," Guillory said.

Selling the Civil War
In testament to the dangers of 19th-century submarining, the Hunley killed more Confederates than Union soldiers. Twenty-one men died on its missions before it was finally lost. Five sailors aboard the Housatonic were killed when it sank.
Researchers who have studied the sub since it was raised four years ago don't yet know whether the eight men of the Hunley's last voyage drowned or asphyxiated from lack of oxygen when their vessel dropped 30 feet to the ocean floor.
But the remains were so well-preserved that archaeologists recovered remnants of brain tissue, hair and even cartilage that had calcified, along with a famous gold coin carried by the commander.
Hunley promoters expected to sell 1,000 replicas of the coin this weekend. At Charleston's Hunley Store Friday, anything with the sub's name on it was snatched up like NASCAR memorabilia at a race.
In 2003, the store brought in $410,000 for the preservation. More than 200,000 people have visited the Warren Lasch Center, where the sub is continually bathed with cool water in a giant water tank to keep it from rusting. Tickets are $10.
A total of $18 million in private and taxpayer money has been raised for the sub's recovery, excavation and ongoing conservation. Plans are to build a $40 million museum in North Charleston. The city agreed to cover $13 million of the cost in order to beat out its neighbors for the attraction. The rest will come from private pockets.
Promoters say it's a good investment. In Charleston, after all, the Civil War isn't just history. It's big business.
Surveys by the Charleston Chamber of Commerce show that history plays the biggest role in bringing 4.5 million visitors a year to the city. Tourism has a $5 billion economic impact on Charleston's overall $17 billion economy.
And for those selling nostalgia, the Hunley is the perfect tool - steeped in myth, but largely free of the uglier connotations many associate with the old Confederacy.
"It's the Civil War without the yucky parts," said Jack Hitt, a Charleston native and writer who chronicled South Carolina's barbecue wars for The New York Times Magazine.
The Hunley fits Charleston's image well -- the first submarine used in warfare and the first to sink an enemy ship.
"What makes the Hunley such a good piece of history is that it really was cool," Hitt said. "I mean, the way the thing was powered -- it was like Dr. Seuss. There's all that forensics and technology and cool stuff that has nothing to do with slavery, or states rights, or taxation.
"This was the first `mission impossible' -- and it's in our harbor."
Officials said Saturday's ceremony would be the last funeral of the Civil War, but Pulitzer Prize-winning author Tony Horwitz, author of "Confederates in the Attic: Dispatches From the Unfinished Civil War," laughed when told that.
"They use that a lot. It's an endless procession, and the Hunley will not be the last," he said. "I've attended several `last funerals' of Civil War soldiers." He even went to one where Stonewall Jackson's horse was unearthed and reburied.
"I know of at least one Confederate widow still alive," Horwitz said. When she's gone, "I don't know, maybe that will be the last funeral."

PUBLISHED BY: THE CHARLOTTE OBSERVER